A Seattle police officer and union official who is being investigated for laughing and making crude comments about the death of an Indian lady who was hit by a police SUV has been removed from duty, according to authorities.
Traffic Officer Daniel Auderer "has been administratively reassigned to a non-operational position," the Seattle Police Department said on Thursday, according to The Seattle Times. One police watchdog organization had urged for Auderer to be suspended without pay a week prior to the move. When Auderer was reassigned and relieved of his traffic job wasn't immediately known.
The Seattle Police Officers Guild vice president Auderer has been the subject of an investigation ever since a recording from his body camera was made public and showed him joking and laughing over the phone with union president Mike Solan. The call came in the hours following the fatal police SUV collision that killed 23-year-old student Jaahnavi Kandula on Jan. 23 as she crossed a street while being hit by another officer, Kevin Dave.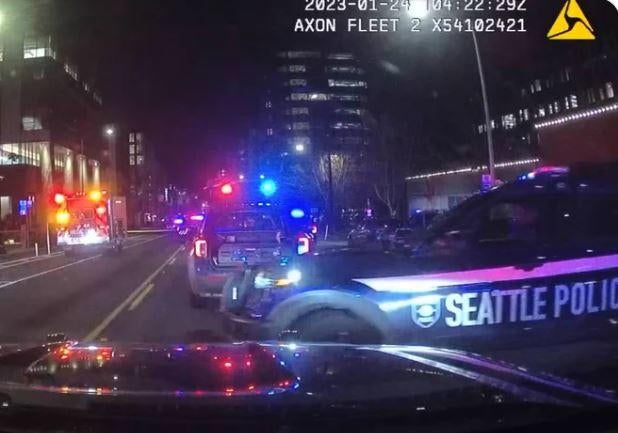 A body-worn camera captured one Seattle Police Department union leader joking with another following the death of a woman who was struck and killed by a police cruiser as she was crossing a street.
Dave was traveling to a call for a heroin overdose while traveling at 74 mph in a 25 mph zone. According to a detective's investigation, he began to brake less than a second before striking Kandula. According to the study, Dave was traveling at a speed of 63 mph when he struck the woman. As a result, neither Kandula nor Dave had enough time to "detect, address, and avoid a hazard that presented itself."
The investigation stated that the SUV's emergency lights were on and that Dave had "chirped" his siren at other intersections and used it just prior to the incident. Kandula was also thrown 138 feet, according to the report.
The King County Prosecuting Attorney's Office is investigating the crash from a criminal perspective.
When Auderer called Solan from the crash scene, where he had been asked to see if Dave was intoxicated, he left his body camera on.
Only Auderer's voice can be heard on the recording that the police department made public. He downplays the collision and states incorrectly that Dave was traveling at 50 mph at the time. He then starts laughing and refers to Kandula as a "regular person." He also asserts that Kandula's life had "limited value" and that the city should just issue a $11,000 check.
After a police officer who was watching the body camera footage for the crash investigation reported it to a police department counsel, Seattle's Office of Police Accountability opened an investigation on August 2.
The remarks made by Auderer have drawn condemnation both domestically and abroad. According to Police Chief Adrian Diaz, he has discussed the issue with members of the Asian and Indian populations.
In a statement, the Seattle Police Officers Guild said that the taped conversation had been misinterpreted and that the two men were making fun of the city's legal team's potential attempts to reduce blame for Kandula's death.
A written statement that Auderer gave to the city's Office of Police Accountability was obtained earlier this month, according to Jason Rantz, a conservative talk radio presenter on KTTH-AM. In it, Auderer said that Solan had expressed grief at the passing and that his own remarks were an attempt to imitate the tactics the city's attorneys may use to disassociate themselves from any blame.
According to KTTH, Auderer stated, "I intended the comment as a mockery of lawyers." "I laughed at the ridiculousness of how these incidents are litigated and at the ridiculousness of how I watched these incidents play out as two parties bargain over a tragedy."
The station quoted Auderer as saying that anyone hearing only his side of the conversation "would rightfully believe I was being insensitive to the loss of human life." He said that the remark was made "not with malice or a hard heart," but rather "quite the opposite."
Hearing Auderer chuckle at Kandula's death, according to members of the African American Advisory Council and Community Police Commission, reaffirms to Seattle residents that the department as a whole tolerates that kind of behavior, according to KIRO-TV.
"This only tarnishes it. not just for the officers in Seattle, but for all the officers in our nation. You can see their culture through that. that some people value us more than others. According to Victoria Beach, chair of the African-American Community Advisory Council for the Seattle Police Department, some lives are valued while others aren't, and that doesn't look good.
For the past five years, Beach has collaborated with Seattle Police to enhance racial relations between Seattle Police and the neighborhood. She admitted to KIRO-TV that the video makes her queasy.
"I simply feel frustrated and sorry for the family. Could you picture the person they're making fun of as being a loved one?" she asked.